It is difficult for us to choose the best headphones under 200 bucks. There are many types of headphones in this price range: over-ear headphones, in-ear headphones, on-ear headphones, closed-back headphones, open-back headphones.
But the needs of each person are different. So, we choose the best headphones of any kind in the price range of 200 or below. For you can choose the one that works the best and best suite for you.
Beyerdynamic has created amazing headphones for many years and has earned a reputation as one of the most reliable audio companies in the world today. So, it is not surprising that we are seeing many Beyerdynamic products on the market.
In addition to the Beyerdynamic DT 770, other notable headphones include the Beyerdynamic DT 880. The DT880 is not closed-back model, but it is semi-open headphones model.
Beyerdynamic is well-known and renowned in Hi-end headphones, headphones amplifiers, microphone, and conference system. They made in Germany and one of the most trusted in the world.
Beyerdynamic DT 770 is one of good back-end headphones of Beyerdynamic. It's perfect for studio recording. The single-sided cable makes it easy to handle the headphones.
The advantages we like Beyerdynamic are: Most of their headphones can be replaced part — earcups, cable and more.
BT DT770 comes with a spring steel strap that fits comfortably into the wearer's time and ensures comfort and soft. The earcups can be adjusted.
DT770 provide the option for 32 Ohm, 80 Ohm, 80 Ohm monitoring and 250 Ohm. All are also closed-back ear headphones. Each of them has a slightly different price.
One of the flaws of Beyerdynamic DT770, though these headphones have a good performance with ambient noise isolating feature (approx 18dB). They can block noise in a moderately noisy environment. However, they would not isolate as well in a louder environment.
Another one downside, we would like them more comfortable due to the fact they are not wireless.
If you overlook a few drawbacks, the Beyerdynamics are great closed-back headphones and will make you happy.
Pros
All part replaceable.
Technology "Bass reflex" for better bass response.
Single-sided cable.
Next up, we are talking about the 2nd order of best closed-back headphones under 200. The Audio Technica ATH-M50X, one of the product that lots of sale in closed-back headphones of amazon.com.
The headset is very popular in music. Especially in the studio at beginner to intermediate level. Including to use the general music. This headset is neatly crafted, looks great and durable.
The ATH M50X choose light materials and wear comfortable. The body of the headphones, they are made of plastic molding hence, it lightweight.
Also, they made of professional-grade earpad and headband material deliver more durability and comfort.
What also nice is it have audio quality is so fantastic. Especially, when we talk about the distribution of frequencies as well as overall clarity. We have been complaining very little. Besides, they also come with an interchangeable cable. They have three options in the box long, short and coiled which you can choose the right one.
Other good things about this product are they come with an adjustable headband, 90-degree both direction rotating earcups and they're also collapsible.
In case you are wondering what the main differences are between the ATH-M40X and ATH-M50X are driver dimension and earcup swivel. The ATH-M40x driver size 40 mm which is a bit smaller than ATH-M50x that has 50mm drive size.
The Audio Technica ATH-M50X can swivel earcups 90-degree both directions (in/out). While the Audio Technica ATH-M40X just only swivel earcups 15-degree for in and 90-degree for out.
The Audio Technica ATH-M50X is available in 4 colors. You can get them in black, white, blue and gun-metal color. They are slightly different in price but performance is not different.
In Summary, these headphones good for professional listening, mixing, tracking and DJ.
Pros
Great audio quality.
90-degree swivel earcups and foldable.
Give more convenient with three options cable detachable.
Cons
High weight (10 oz without cable).
>> Audio Technica ATH-M50X
Another around-ear headphone, closed-back design style and one of the best headphones under 200 from Sennheiser which is HD 598 CS closed-back headphones.
The Sennheiser series of HD 598 does not only have a closed-back model but also they have an open-back model is Sennheiser HD 598 Sr open-back headphones. The HD 598 Sr open-back is a bit more expensive.
Soft, comfortable to wear, this is a great feature of these headphones. It delivers extreme comfort because of the padded headband as well as soft fabric ear pads.
That's why I definitely recommend the HD 598 Cs to whoever need for a comfortable set of closed-back headset for gaming and music.
Although this headset comes with a noise isolating function, its isolation performance just only average. So, their performance not equal to listen to on high-quality headphones.
If you can accept some drawbacks about noise isolating of this headphones, they also still are good choices for closed-back headphones.
The HD 598 Cs closed-back offer an excellent audio performance. They produce more balanced bass than other closed-back headphones. The Sennheiser HD 598 Cs is also balancing the bass and treble as well good.
Given the seamless connectivity, they provide connectivity for home and mobile use. The HD 598 Cs come with two detachable cables.  First cable, a 1.2m cable with a 3.5mm jack for mobile connectivity. The second cable, a 3m cable with a 6.3-mm jack for a home entertainment.
Pros
Supreme comfortable.
Great sound performance.
Cons
Noise isolates not work 100%.
Not carry case (have to buy separately).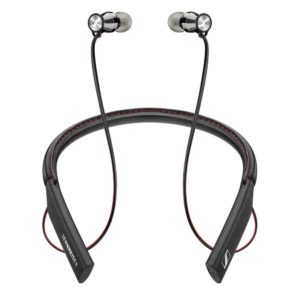 The reputation of Sennheiser headphones is well known for its hi-quality. Sennheiser is available headphones in a variety of styles. What we are looking for from Sennheiser is the "Sennheiser HD1 In-Ear Wireless Headphones" another in-ear headphone that we choose from the quality and price that is possible for you.
This in-ear headphones ship with Bluetooth 4.1 with AAC codec support. The Apt-X compatibility provides great sound quality via a crystal-clear wireless transmission.
The Sennheiser HD1 in-ear wireless headphones, ergonomic design that you can get more comfortable and easy to wear.
The Sennheiser HD1 In-Ear Wireless headphones also have NFC function which makes it easy to pair with a compatible device (simple just in one touch paring). From Jass to hip-hop, everything sounds dynamic and sharp with the HD1 wireless in-ear headphones from Sennheiser.
The sound it delivers is not just dynamically strong, but also rich in detail.
The exceptional feature that we like is possible to connect two devices at the same time. This means that you can listen to audio on one and receive calls from another.
The battery life can reach up to 10 hours and just 1.5 hours fast-charging via USB charging cable.
There is one thing that we don't like, and that is they don't have active noise cancelling function which unlike some in-ear wireless headphones. They just only have passive noise isolate.
If you're ok with that, then the Sennheiser HD1 in-ear wireless worth to checking out.
Pros
Ergonomic design.
Support simultaneously connect two devices.
NFC (one-touch pairing).
Fast USB charging (1.5 hours).
Cons
No Active Noise Cancelling, but they have passive noise isolated instead.
5. Cowin E8 – Best Headphones under 200
Cowin E7 has overwhelming success. They're very popular in the group of wireless noise cancellation headphones.
Now Cowin has produced the latest active noise cancelling Bluetooth headphones, the Cowin E8 Active noise cancelling headphones.
If we are going to talk about the difference between Cowin E7 & E8, obviously is Cowin E8 come with more great sound quality, better active noise cancelling and better comfort.
But there is one thing inferior to E7 that is battery life. The E7 has battery life 30 hours per one charge which more than the E8 which have 20 hours for one charge. However the 20 hours battery life rather excellent.
Another good thing is that the Cowin E8 upgrade soft ear cushions. They are designed to over-ear cushions can rotate 90 degrees. This thing will help the headphones fit snugly to your head.
There is also an come with Active Noise Cancelling (ANC) that will help block out the noise. The ANC help you listen to music you like more clearly and more deeply. This over-ear headphone with high-quality built-in microphone and Bluetooth.
Keep in mind the headband felt sharp and hard doffing into your head that can lead to major discomfort when wearing. The issue may not have happened to everyone. It depends on the head of each person.
Pros
Great Active Noise Cancelling.
Extreme comfort ear pad.
Superior sound quality.
>> Cowin E8 [Upgrad] Active Noise Cancelling
If you wish active noise canceling (ANC) that offers an abundance of customizations functions under 200 USD, then get the Sennheiser HD4.50 SE.
These headphones provide you a lot of control over their noise canceling function and audio profile which you can simply EQ through companion application.
They isolate file enough for most of the commutes, have above-average audio and a fine battery life with good power-saving feature. They can also pair at the same time with 2 Bluetooth enabled devices, so you can rapidly switch among your audio sources.
What makes Sennheiser HD 4.50 SE stand out among competitors is their companion application, Sennheiser Cap Tune. The Sennheiser HD4.50 SE has fine sound out of the box, but you can fine-tune their audio even more with the parametric equalizer on the application.
If you are not a big fan of their bass-heavy sound signature, you can utilize the application to tweak the audio more to your liking.
Some people find that they fit a little tight on the head, and they do not have as much customization functions as the more costly Sennheiser PXC 500, but they're still a worthwhile option for those who love to be capable to EQ their sound.
The Sennheiser HD4.50 SE also have best noise isolation and leakage performance than Sennheiser PXC550, which makes HD4.50 SE an even better value if you mostly care about noise cancellation.
Pros
Relaxed fit
Neutral-sounding mids & highs
NFC support
Simple controls
Cons
Noise cancellation could be more solid
Mediocre battery
For me, this is the best headphones under 200. These professional pieces ar3e designed for the busy person who's always on the go and visit a lot. They are ideal to just throw in your back, and since you can fold them, they do not take up much space.

>> Sennheiser HD 4.50 Spacial Editionj
Then, I will show a summary comparison spec on a table for the top 5 best headphones under 200.